Details
MAME (Multi-Arcade Machine Emulator) is an emulation framework that allows for emulating a broad scope of computing devices, particularly arcade machines, but also computer systems.
For a thorough discussion of MAME, see the MAME website.

MAME offers emulations from arcade cabinets, over pocket calculators, home computers, gaming consoles, up to PCs. ROM dumps must be provided by the user, because it would be forbiddingly expensive to get licenses for such a lot of systems.
Ninermame is a website that is dedicated to the emulations of the TI family in MAME. On these pages you can find all information that you need to get the emulation working perfectly for you.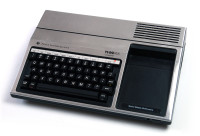 As I owned a TI-99/4A computer back in the 80ies, my special interest is, of course, the emulation of the TI computer family. This is not just the TI-99/4A console and its peripheral expansions, but also the TI-99/8, the Geneve, the TI-99/2, and some more exotic things. I started to contribute to MAME around 2007, but I am only one minor contributor among hundreds.